Lucky, Lucky Day
Yesterday, by some incredible stroke of luck, every single kid in my Kids Crew class found a four leaf clover in the Garden. It had been a pretty unstructured day — they'd weeded and fertilized their vegetable patches, planted watermelon and pumpkin seeds, kicked aside a rock and then watched as the ants underneath scurried to tug their blobby larvae back into their underground...
It's a Snake!
No, it's just a giant earthworm that the kids found in the digging bins today. Fun worm facts: *  Earthworms have tiny bristles called "setae" that they use to grab onto things. When they slurp quickly back into the soil, they're pulling with their setae. * Earthworms like this one mostly eat soil, and they live in soil. Red Wigglers are smaller and redder, and they eat...
Emerging from Winter Dormancy
Most temperate plants need a winter rest. So did this blog, it would seem. Today I got our tiny Venus Fly Traps out of the fridge, where they'd spent the past 4 months wrapped in sphagnum moss inside a sealed Ziploc bag. The plants need the winter months to slow down their metabolism and wait out the chill, otherwise they won't come back as robustly the next year. The traps are...
Snail Tightrope
We've raced snails before. Today Marcos Stafne, the Museum's awesome new Education Director, suggested that we up the ante.
5 Reasons Leaf Pounding is Better Than Leaf...
I hate leaf rubbings. Am I allowed to say that as a garden educator? They're so lame. I mean they can be great for showing leaf texture — rub a crayon over a piece of paper on top of a leaf and you reveal all those tiny leaf veins that can be hard for kids to see. But in the fall, it's all about that brassy explosion of color, so why approximate that fall color with crayons...
1 tag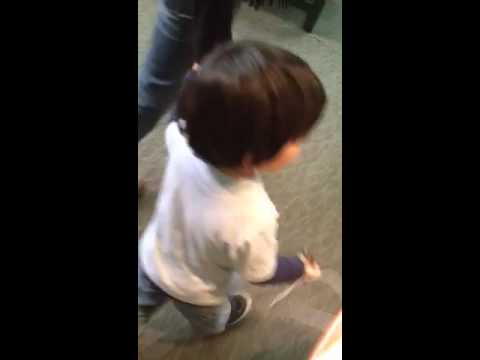 1 tag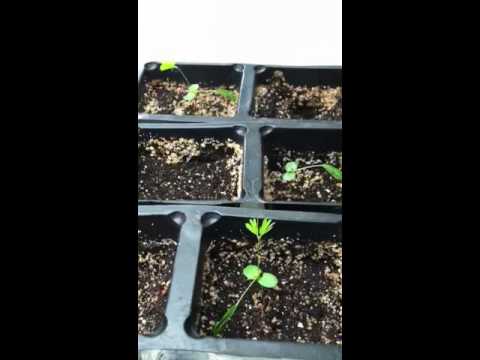 Big Ol' Garden
One thing I think this blog is missing is a real sense of the broader spaces of the garden. The garden is all tight corners and dappled shade, so we're always climbing on top of raised beds and hoisting the camera high to get the shot, and the camera angle just never seems wide enough to take it all in. Enter Tiffany today and her magic PhotoSynth app on her phone. The app stitches photos...
Skeeter-Vac
Oh man is it a bad year for mosquitoes. New York Magazine estimated in May that it could be the worst year for them to date. The mild winter put no dent in the population of either the delicate native mosquitoes or the monster truck Asian tiger variety. To head out into the garden with bare legs means spending the first five minutes bending over and swatting them, clapping a slow, stuttering beat,...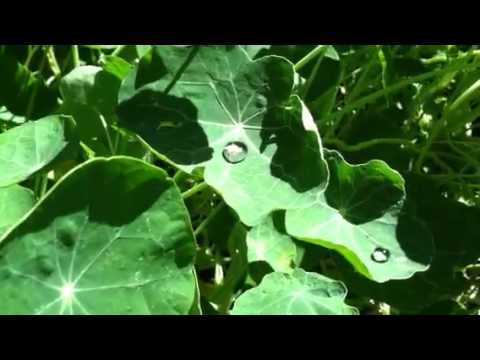 No Reading Signs
Malcolm, 7, is destined to be a political cartoonist, don't you think? Signage in the garden is a perpetual project. When I arrived at the museum there were very few signs in the garden at all, maybe one or two saying "Please don't pick the flowers," but that was about it.  Now I fear that under my watch, the pendulum has swung too far in the other direction. I've...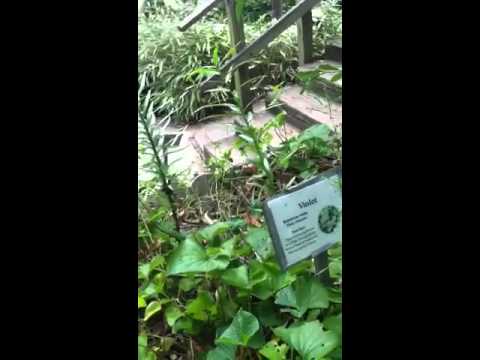 To Market to Market
Yesterday might have been the best day of the summer.  Back in June, we gave every Kids Crew kid their own foot and a half square plot to seed and tend as they pleased, and by now they've grown a good haul of flowers, greens, and herbs. Yesterday was our last day with them, so it was time to celebrate. Among their favorite crops are the sunflowers, which are now nodding over each quadrant of the...
Rainbows, Moons, and Mud
Jose built me seven new raised beds this season. Seven! Besides the Shape Garden, whom you've met, we've now got a Silver Moon Garden, home to plants whose silvery green foliage keeps them cool and drought-tolerant in the hot sun: There's a new strawberry bed, and 3 new beds with pink fuzzy amaranth fingers pointing towards the sky that help to screen off an ugly white tarp...
The Shape Garden!
BCM's audience seems to be getting younger and younger, so we're always looking for ways to engage the youngest visitors in our garden. Lee Patrick, a friend from the Brooklyn Botanic Gardens' Horticulture program, suggested the theme for this bed. It's one of our simplest beds so far, and kids love finding the shapes in the leaves.  So far, we have circles...
Teeth, Jaws, Fangs, Baleen!
Who wants to learn about oral hygiene? Nobody. How are you supposed to design a fun lesson about brushing your teeth? This week's program was inspired by a trip down into the museum's collection storage rooms. We found a sawfish plastron, a shark jaw, a nice piece of whale baleen, and a wooly mammoth tooth that someone had found and shellacked a hundred years ago. Comparing the mammoth's ribbed...
Ladybugs on the Loose
Opening a USPS package of live ladybugs is totally creepy. You're under strict instructions to put them in the fridge as soon as they arrive to let them rest after a long hot journey in a truck, so when you first open the cold cardboard box, they reanimate slowly. They twitch like tiny bug zombies then crawl over each other towards the light. Reaching your hand in to help them out, they fly up...
Watch
We discovered a bee swarm in the garden last week, a phenomenon that's apparently been quite common in New York this season. Our upper garden abuts the schoolyard of P.S. 289, and the kids waved me down at recess to point out the writhing, buzzing colony that had found a temporary home on a tree branch. They said a kid at their school had probably thrown a rock at the original hive (you can hear...
Slime and Stardust
Some days you just have to get messy. The Kids Crew kids were feeling cooped up after a rainy week, so we decided to make some alien slime with them. Tiffany started us off with a polymer lesson about atoms and molecules, and how by adding different molecules to each tiny chain, we would give the polymers different properties – a little Borax for bounce, a little glue (polyvinyl acetate) for...
Walk the (Slack) Line
I teach the second and third graders in our after school program once a week. On sunny days they tend their own garden plots, but on rainy days we have to get creative. A few weeks ago, it was raining buckets and we'd just received a shipment of new balance scales for our school programs, so Tiffany and I declared it "Balance Day." The kids would have to complete 5 balance...
1 tag
Navigating to a Secret Hideout
Teaching city kids compass skills might seem a little outdated in an age of GPS and turn-by-turn navigation, but we didn't let that stop us on Sunday. I told the kids I had found a stash of treasure maps in storage and passed them out to the kids to decipher. Only one of the kids was a confident reader, so she read us the first few lines. "What do you think 'NW' means?" I asked. "North west!" "It...
1 tag
Pillbug Maze
On Mother's Day this past Sunday we pulled out a perennial favorite program, Pollination Sensation. The kids dissect flowers to find the pollen-bearing anthers and the sticky styles, then they build pollinator fishing rods: cotton balls tied to decorated paper butterfly wings, all hung with fishing line from a stick. The kids flit around the garden, dunking their butterflies into open flowers and...
Maple Leaf Rag
Was this Japanese maple this gorgeous last year? It can't have been. Now that I think of it, a freak hailstorm last October blew the leaves to bits before they had a chance to change color, and we woke up to a foot-deep carpet of shredded green leaf mulch all over the garden. On the plus side the leaves came down in one heavy flop, and after a strenuous day of raking we were pretty much...
Overheard in the Pizza Shop Exhibit
"Excuse me Sir, would you like the mushrooms with the matching cheese?"
Late Bloomer
This toad lily, Tricytris 'Sinonome' is my new favorite plant in the garden. Blooming in August through October, it's tolerant of early frosts and it takes full shade, which is a must in BCM's subterranean terraced garden. The coloring is so mottled and the structure of the flower is so architectural that it inspires some pretty 'flowery' comparisons: Its...
It's a Miracle!
We have our first berry on the Miracle Berry plant in the Greenhouse! The Synsepalum dulcificum berries have an incredible effect on human taste buds. The fruit itself tastes mildly sweet and tangy, but the juice contains a glycoprotein molecule called miraculin that binds to human taste buds, temporarily changing the shape of the sweetness receptors so that sour, acidic foods trigger them to...
Mural Progress Report
With all the rain this summer it's been hard to find dry days for mural painting. Finally this week the sun broke through.
Grape Season
Get them before the birds do! Laurence built us a beautiful new grape arbor this year, so rather than climbing 30 feet up the greenhouse wall, the grapes are well within reach if you know where to look. It's been agonizing for the kids to wait until they're ripe, but there's lots of support out there saying it's important to teach kids the benefits of delayed...
The Great Regatta
Jarad put together a great sailboat design class today, sponsored by National Grid. The kids learned about wind power, assembled their cardboard boats, decorated them, and set sail. It was quite dramatic, especially since the boats only really lasted three or four runs before the cardboard got waterlogged, so in the final races there was an excellent chance of swamping.
Wrapping up the School Year
School's out for the summer on Tuesday. We've taught our last field trip groups and we're wrapping up curricula with the after school kids. The second and third graders have been learning about life cycles this year, so in our last few lessons together we collected seeds in the park (they found 16 different kinds of seeds in a small patch of grass), we changed out the early...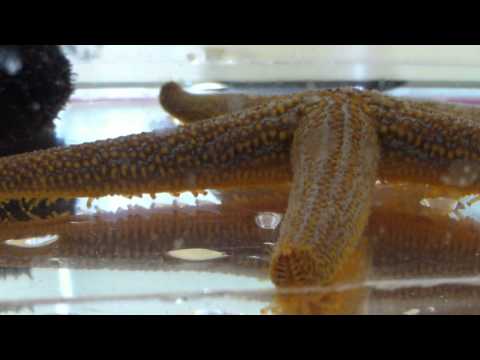 Culture Garden Mural Progress
With the kids off school on spring break last week, the garden had lots of visitors who were willing to help out with the mural project. Turns out kids are very good at spreading concrete patch over holes with a putty knife, but not so good at wiping their paintbrushes on the lip of their paint cups so the paint doesn't drip all over the place. We ruined a few good pairs of sweatpants....
Watch
First bees I've seen this year. It takes some convincing to get Brooklyn city kids to get close enough to bees to see how cool they are. When I tell them to look for the pollen baskets on their legs, that usually does it.
Overheard on a Snail Hunt
"Look for a swirly stone. That's a clue." - Zion
1 tag
Cherry Blossoms All Dolled Up
D'Marco said, "That tree looks like it's dressed for a wedding."
Seeding the Rainbow Garden
This book is a favorite in our greenhouse library, and it's the inspiration for one of our most popular flower beds, the Rainbow Garden. Last week I direct seeded the first of the flowers along the spectrum. Reds: Mexican Cigar Plant, Ladybird Poppies, Picote Cosmos, Burgundy Celosia, three kinds of Amaranth, plus tulip bulbs planted last fall. Oranges: Orange Porcupine Calendula,...
Major Watering Can Facelift
The old watering cans were tired. They had been sitting on the shelf in some store so long that the store owner practically gave them to me, and they were completely sun faded on one side except where the big price tag had been. It was the kind of paint job that reminded you of your own mortality. Ho-hum. Mah-WAH. Honk-shu (snoring sound). Enter the Girl Scouts! We had a local Brownie troop...
A Snail's Race
Light, misty rain is the perfect weather for snail hunting. I tell kids to look under leaves and on the sides of planters. For some reason they congregate on the bristles of the doormat going into the greenhouse, too. We line them up and make bets on who will win. This guy.
Early Spring Greens
The first of our vegetables are out from the safety of the grow table and into the world! We've got leeks, cauliflower (which can be finnicky to transplant, but seem to have taken well to their new spot), lots of lettuce and collard greens, plus red malabar spinach and some green onions. We're planting extra lettuce and collards this year to help feed our live animal collection. The...
April Gardening Tips
The New York Botanical Garden has some great resources on their website for home gardeners. I like to look at this gardening calendar at the beginning of every month as I come up with my garden to-do lists. The suggestions are perfectly calibrated to Brooklyn's climate. Hardiness zone 6b* what what! * If you don't know what plant hardiness zone you live in, check the map. These...
2 tags
Scrambled Eggs
During my "Amazing Arthropods" class yesterday we went around the circle and each kid said what bug they wanted to be. Spiders, butterflies, ladybugs, fireflies. One kid said she wanted to be a turtle, so I pulled out an x-ray of a turtle to show them the backbone and describe the difference between a vertebrate and an invertebrate. In the x-ray, the turtle is incubating a clutch of...
1 tag
Spring Squill
Scilla siberica, native to Siberia, known for popping through the snow. Good thing, since a few late flakes are falling today. This is a great one to plant in patches in your lawn. They're so early-blooming and compact that they splash color around before your grass greens up for spring, and they'll be gone by the time you need to mow the lawn the first time. Plus the name is so fun...
A Puddle, Literally
It's been warm enough recently to let visiting school groups run around in the gardens, and they've been going bonkers over the watering station. As they run up the stairs carrying their watering cans, most of the water sloshes out onto their shoes by the time they get up to the vegetable beds. Yesterday I found one group of kids kneeling in a circle in the open gravel area. When I...
Cuddly Venus Fly Traps
A woman came into the greenhouse the other day and asked if we had any Venus Fly Traps. The flytraps I started from seed a few weeks ago are too tiny to put on display, but I showed her son the baby pitchers growing at the end of the pitcher plant's leaves and explained their carnivory. He looked a little disappointed. "He loves Venus Fly Traps," his mother whispered to me....
3 tags
A Mural for the Cultural Garden
Bit of a lapse in entries there; I've been spending my precious few computer hours working on mock ups for a spring mural in the garden.  The vegetable gardens this year will be culturally themed, with a Mexican garden brimming with a mix of flowers and veggies that are native to that region and foods that are culturally important there. Zataar oregano, thyme, chickpeas and figs will go in...
2 tags
Good Question: Sleepy Shamrocks
Happy St. Patrick's Day! Here are our purple shamrocks, Oxalis regnellii. These striking plants in the wood sorrel family are named after the sour oxalic acid in their stems and roots. The triangular leaflets fold down at night like an umbrella, then open up again during the day. Here are three theories scientists have offered to explain why they fold up at night: 1) To reduce heat loss...
2 tags
New Growth: First Coffee Flower
When coffee bushes flower, they usually go up all at once with tons of small white blossoms clustered on the stems like clumps of snow. This one jumped the gun and flowered on its own. Ain't it grand? That piece that looks like a spurt coming out of a whale's blowhole is the bifid style, the female part of the flower. Pollen grains stick to it, then use their internal enzymes to...